Japanese / English
Profile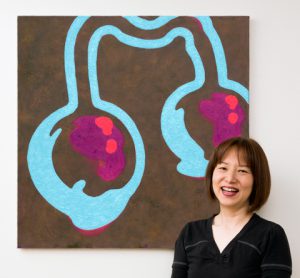 In year one at primary school, almost as soon as I had started to realise what was going on, I started to learn how to paint at an art school near my house. There I was taught how to use oil paints by the artist Mr. Akira Kubo when I was in year 3. He took me outside to paint landscapes carrying oil paintings and an easel. My abstract landscape paintings owe much to this childhood experience.
In 1989, I had my first solo exhibition at ON GALLERY (Nishitenma, Osaka) which was then managed by a gallerist (the late Mr. Watanabe). In 1991 at the same gallery, I presented "Mickey Germ" in which I used the organic motif for first time, parting from my previous theme of removing abstract elements from landscapes. I presented my works at some solo exhibitions and then I stopped. During my break, I also worked as a designer.
In 2012, I established a school "Arts and Crafts Atelier MIRAINOKI (future tree)". I teach there and am involved in children's art education. In 2017, after a 20-year break, I have started to produce paintings again. In July 2018, I have a solo exhibition at GALLERY wks. (Minamimorimachi, Osaka).
RIE TAKESHITA Biography
1965 Born in Kyoto
1989 Master's degree from Kyoto City University of Arts
lives and works in Suita, Osaka
Solo Exhibitions
1986 Exhibition on Photography, Gallery Prints, Kyoto
1989 ON GALLERY, Osaka
1991 ON GALLERY, Osaka
1992 gallery16, Kyoto
1993 ON GALLERY, Osaka
1994 gallery16, Kyoto
1997 CUBIC GALLERY, Osaka
2018 GALLERY wks. , Osaka
Group Exhibitions
1989
Art Line '89, Osaka Contemporary Art Center
1990
Five Hearts, gallery16, Kyoto
Osaka Three Female Painters Exhibition, 3rd Gallery, Korea
Exhibition of Three Artists (Kazuhiko Katayama, Susumu Takao, Rie Takeshita), Gallery Matsufuji, Osaka
1991
Five Hearts Part 2, gallery16, Kyoto
Power of Painting, Shinanobashi Gallery, Osaka
The 2nd Taejun Triennale '91, Korea
1992
Five Hearts Special, gallery16, Kyoto
Public Collection
Ceramic Mural work and Paintings, Drivers Licence Center, Okayama